Source: www.rucriminal.info
At the disposal of Rucriminal.info were the materials of the case against the gang of Konstantin Piskarev (Kostya Bolshoi) and his militants, who committed more than 25 contract killings. The organized criminal group has been operating for almost a quarter of a century, since the dashing 90s. We publish these materials in parts. Readers, as in the movie "The Brigade", will see all the stages of Piskarev's formation: from an ordinary bandit in the 90s to a millionaire mafia leader with huge connections. Today we are publishing the testimony of a member of the Mishin's gang, as well as acquaint with the transcript of the confrontation between Kostya Bolshoi and Mishin.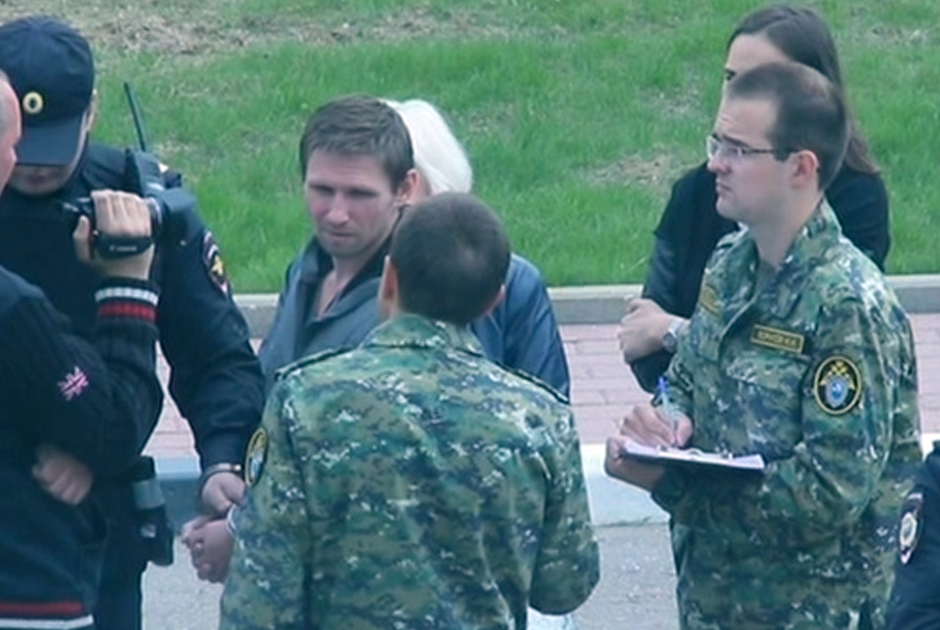 "After serving in the army, he began to work for his father in the Stroyrost firm, then began working in the Bauman market and maintain relations with members of the Bauman criminal group. At one of the meetings, Mishin met Piskarev, who impressed him as a person with great opportunities and material resources. Mishin decided that working with Piskarev, he could achieve great success. From about August 2001, Mishin began working for Piskarev: he performed the duties of a driver, filmed Piskarev's meetings with a video camera, took pictures of various places, cars, people. The obtained photographs (films, or photographic equipment) Mishin gave to Piskarev. Also Mishin, on behalf of Piskarev, carried out surveillance of people. Piskarev gave Mishin a verbal description of the persons or vehicles that had to be followed. .. When joining Mishin's gang, Saryan, Stolyarov, Fedoseev, Zemtsov, Zamyatin, Lupichev, Aleksandrov, Sergei Bezrukov were already in it. While in the gang, Mishin brought Makarov, who, in turn, brought Sergei Yuryevich and Shchesnyak to the gang of Bezrukov. The base and gathering place for the gang members was the Burevestnik yacht club. The activities of the criminal group were quite well organized; the leader was Piskarev, everything was under his direct control, his authority was indisputable, everyone strictly followed his instructions. The group had firearms, for which, according to Mishin's assumption, Saryan was responsible, who was generally responsible for the gang's material support, and issued "wages". Saryai was responsible for preparing for crimes and providing the necessary items for this - clothing, technical means of communication, means of suppression by cars, weapons, ammunition. Saryan also carried out surveillance and technical training. Lupichev, nicknamed the Dragon, was a simple performer, he did not solve any difficult issues. Aleksandrov, nicknamed Nixon, was also a simple performer, in addition, he was associated with weapons. In the gang, Mishin met a wanted man named Andrei, who had the nickname Sullen (according to the Stolyarov investigation), who had a fake passport and a driver's license made with the help of Piskarev. Stolyarov, according to the Mission, was a cunning, two-faced intriguer who loved to do everything with someone else's hands, could set someone against each other. Piskarev did not like Stolyarov, he did not entrust him with serious work and gave him over to Zemtsov. Stolyarov brought Aleksandrov to the group. Stolyarov was entrusted with spying on people, everything naturally happened at the command of Piskarev. Stolyarov also attended the meetings where Piskarev took him. In addition, Stolyarov carried out minor assignments for Piskarev related to transportation and meetings. At the direction of Piskarev, after the arrest of Zemtsov, Stolyarov collected money from controlled merchants and continued to carry out the work he had been doing under Zemtsov.
After Fedoseyev's death, his place was taken by S.A. Bezrukov. nicknamed the Commissioner. Bezrukov S.A. was engaged in the sale of confiscated equipment and property according to court decisions. Piskarev was an authoritative person in the criminal world, and also had connections in law enforcement and other government agencies. Mishin regularly used Piskarev's connections when running his personal, non-criminal business. Later, when Mishin became an accomplice in several murders, he became afraid that Piskarev would not let him go and deal with him. Piskarev led the gang at first with the help of Zamyatin: he often discussed all his actions and decisions with him. Zamyatin was a native of the Orekhovskaya group, in Piskarev's group he was, as it were, in the shadows, but at the same time, Piskarev listened to his opinion. Zamyatin knew about everything that was happening in the group. Zamyatin helped Piskarev "grow up", it was he who introduced Piskarev to the criminal authorities. Zamyatin served in Afghanistan, was a member of various criminal groups, Mishin often saw Zamyatin at the base, where the latter communicated very well with Piskarev, so to speak "heart to heart," that is, he was friends with Piskarev. Later, when Piskarev gained authority for himself, Zamyatin stopped frequently visiting the Burevestnik yacht club, since Piskarev was able to resolve issues without Zamyatin's direct participation.
It was not customary in the gang to spend free time together, share information. Often Mishin did not know about the crimes committed by other members of the group. Piskarev was not in the habit of explaining the purpose of joint trips, did not report the reasons for the murder of different people, only explained to each participant in the crime what exactly he should do. Before committing the murders, Piskarev dressed in discreet, dark clothes, put on gloves. Piskarev's outerwear could be with a hood, since sometimes, when committing murders, he put a hood on his head and tightened it tight, so that only his eyes were visible. Piskarev prepared for the murder from the back seat of the car, while he could use makeup, for which he had a suitcase with make-up accessories. Piskarev could use an artificial beard, mustache and the like. In addition, Piskarev had a bag with tools that he used for torture. "
Protocol of confrontation between the accused Piskarev K.Yu. and Mishin D.S. from 26.12.2017 with an attachment (video), according to which Mishin confirmed and specified his testimony about his participation in a gang led by Piskarev. Describing his relationship with Piskarev, Mishin noted that these relations can be divided into two stages: at the first stage, the relationship was working, at the second stage, after the murder of Makarov, there was fear and submission. Piskarev, at a confrontation, expressed his disagreement with Mishin's testimony, called them a slander.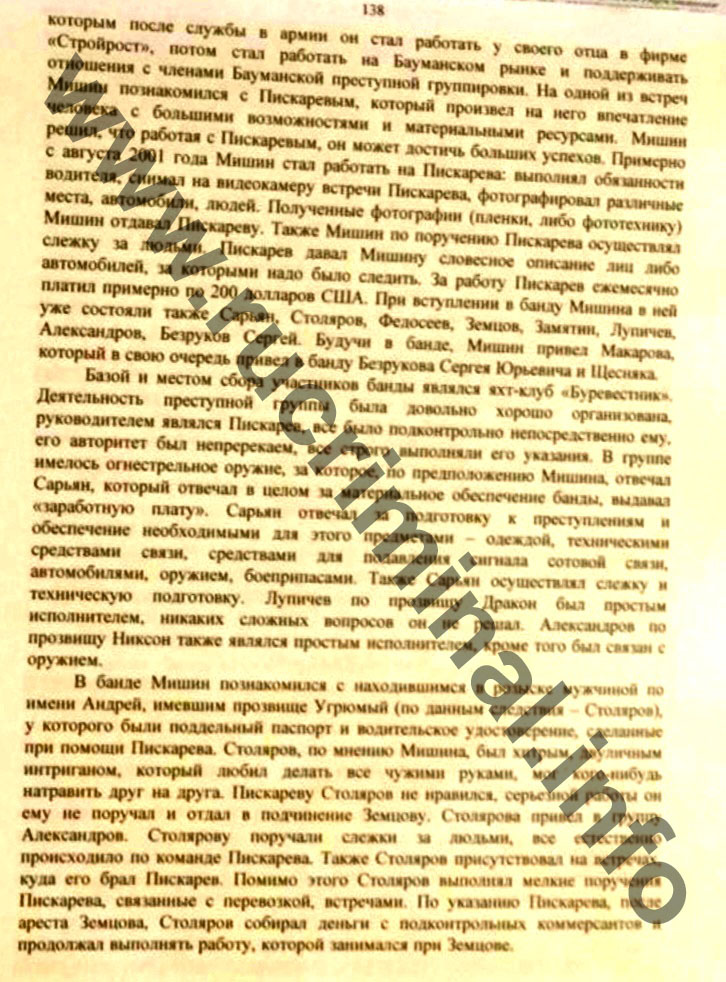 To be continued
Arseny Dronov
Source: www.rucriminal.info